Welcome
Welcome to the online version of my thesis. To view/download the PDF output, click here. Enjoy!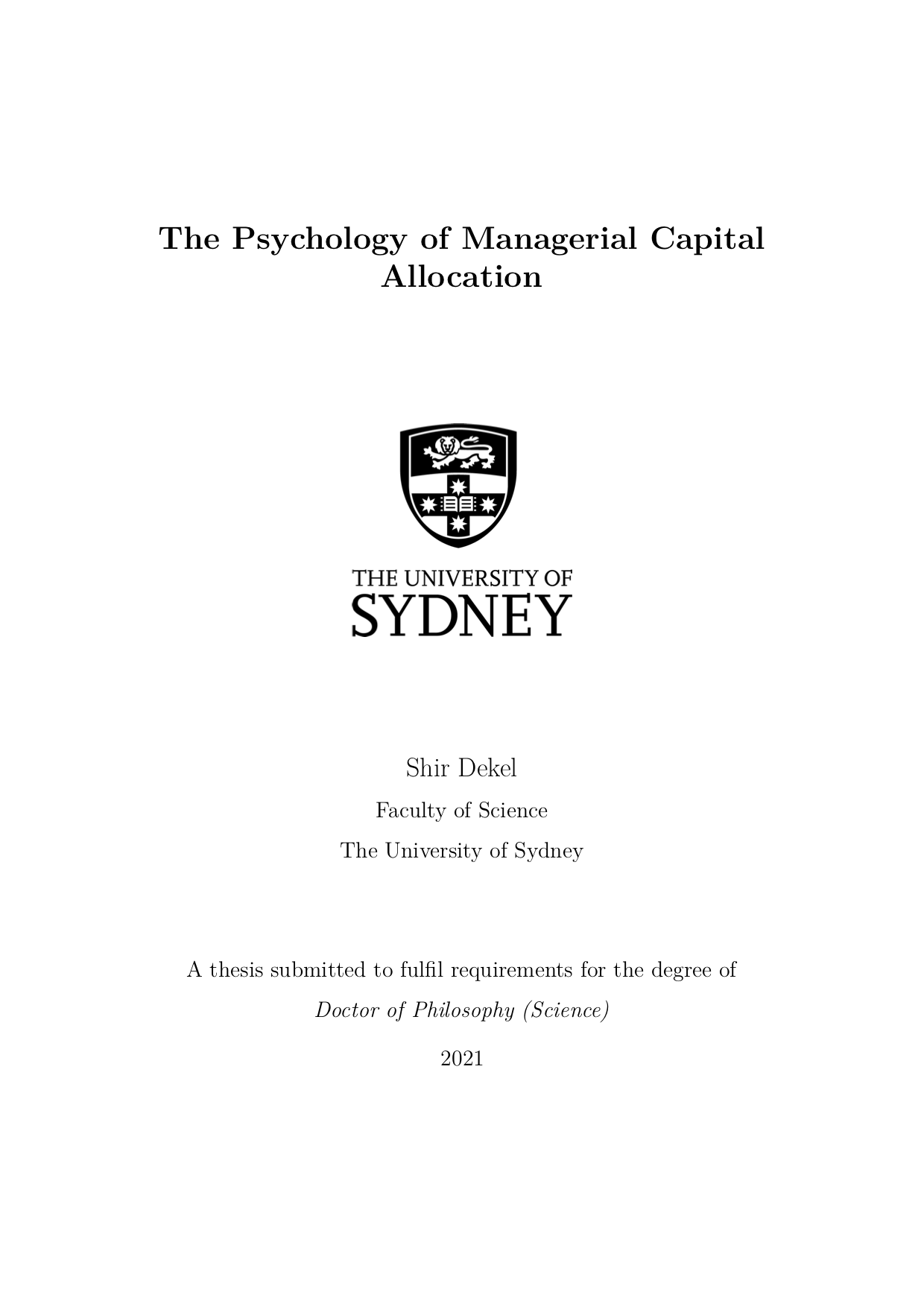 Abstract
Capital allocation decisions are critical for large organisations. Management research mainly considers such decisions from an organisational perspective, largely overlooking potential psychological influences. Therefore, this thesis investigated cognitive processes that affect capital allocation decisions. Three studies examined how participants integrated multiple kinds of cues when making their decisions. Each study presented participants with both statistical information and non-numerical semantic information. In each study, participants had the opportunity to leverage a statistical concept that arguably should be the sole basis of the decision. The first study showed participants sequential risky choices without intermittent feedback. Participants could have combined the risk across decisions to reduce the overall potential loss. However, they struggled to do this unless it was depicted visually. The second study asked participants to allocate a budget across a set of business projects. Participants could have used the variance associated with the provided forecast estimates to choose which metrics to use for the allocation. However, they only appropriately used this information when it was expressed verbally and did not when it was expressed numerically. In the third study, participants saw projects with conflicting statistical and anecdotal evidence. The anecdotes were either similar or dissimilar to the target project. Participants could have clarified the conflicting evidence by using provided information about the distribution from which the anecdote was sampled. However, they ignored this information. Despite this, participants' use of the anecdote depended on its similarity to the target project. These results show that people's capital allocation decisions are bounded by a limited understanding of certain statistical concepts, but that they are capable of more nuanced choice when properly scaffolded.
Acknowledgments
I am immensely grateful for my supervisors Dr Micah Goldwater, Professor Dan Lovallo, and Dr Bruce Burns. Micah was there for me from the initial struggles for an idea, to the stress of unexpected findings, to the last-minute questions about wording minutiae. Thank you for the spontaneous hallway conversations and for prioritising me when it was necessary. Dan's work and thought inspired much of the thesis experiments. Thank you for passing on valuable insights from your mentors, for challenging me, and for opening so many doors. Bruce's incisive feedback gave me confidence in the experiment development and subsequent writing. Thank you for the attention to detail and for our extended conversations.
My family were critical to the thesis even before its inception. My parents were always a model for critical and creative thought and encouraged my curiosity. In a way, the PhD really began with my backyard inventions and experiments. I am also grateful for my sisters for our Friday night jams and for allowing me to always have someone I can strive to impress.
Thank you to everyone else who supported me. To Rachel, for the love, understanding, calls, runs, activities, and donut deliveries. To Nicky, Jacob, and Mich for being my second family throughout our thesis. To Yoav and Josh for being my spiritual housemates and for tolerating their measly monthly quota. And to those who made an effort to read a portion of the thesis and contributed helpful insights (and to David for actually doing so).
Two years ago, my coding knowledge consisted of what I learnt at the HTML Basics class that I took when I was nine years old. Since then, I wrote the text of my thesis in Emacs and developed almost everything else as reproducible code. This would have not been possible without the support of the online R community on GitHub, Stack Exchange, and Twitter.
Chapters 4, 5, and 6 of this thesis were edited by Elite Editing, and editorial intervention was restricted to Standards D and E of the Australian Standards for Editing Practice.
Thank you all.
References